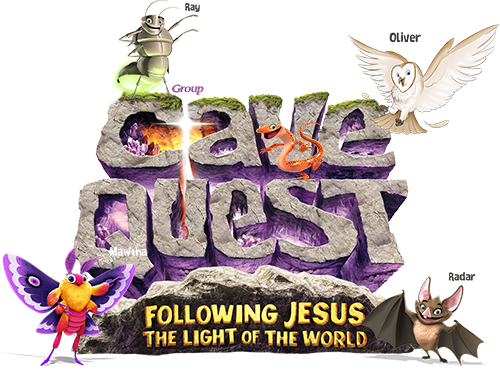 JULY 10-14 5:30 to 8:30 pm
REGISTER NOW
Ages 3 Years - Grade 6 (grade entering fall 2017)
$40 1st child/$30 each child after, Check made out to CTK!
At Cave Quest - Following Jesus the Light of the World you will experience...
A Rock Solid Adventure being grounded in the rock-solid foundation of God's love.
Easy-to-Learn Truths discovering important truths in fresh ways.
Interconnected Lessons so that everyone can experience the joy of discovering Jesus anew!
HOPE TO SEE YOU THERE!

WE NEED SOME HELP TOO!
We need you! VBS prep is underway and we still have much to do. Your help would be greatly appreciated. Do join us on any of the following days or evenings....
July 5,6 & 7 at 10:00am (check in with Moria McAfee)
July 5, 6, & 7 at 6:30pm (check in with Lisa Manges)
Saturday, July 8 starting at 9:30am until ?
Sunday, July 9 starting right after worship until done!
If you are on Facebook please go to the CTK Facebook page and share the VBS event. Or if it pops up on your news feed please share! It is a great summer evening activity for one week. Parents will be encouraged to come for the closing celebration each evening and sit in the V.I.P. section!
Pray for many more children to join us and for our awesome VBS staff as we share in a "Cave Quest" Following Jesus the Light of the World!